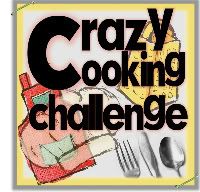 This month, the challenge is for fried chicken. This dinner was eaten on Independance Day! I found it to be the "All American" meal.
My recipe came from a mix of two sources. The first, and the one I used most of my inspiration from, was from The Food Network magazine. The recipe was in the July/August 2101 publication. New York City check Marcus Samuelsson shared his recipe on page 147.
The second source was from Taste of Home magazine (Love them!) in the June/July 2012 issue. The recipe was title Best Ever Fried Chicken and is located on page 29.
I first made a spice blend. Some of the spices were added to buttermilk to be used as a marinade. The chicken was marinated for 24 hours.
Chicken drumsticks in the buttermilk marinade
The next step was to add the rest of the spice blend to the flour. I then took each chicken leg out of the buttermilk and dredged it in the flour and carefully placed the chicken in the grease. I was able to fry about 4 drumsticks at a time.
Hot, Hot, Hot
When I finished frying all of the drumsticks, I ended up with a wonderfully crunchy and tasty chicken. I felt the coating was a bit browner than chicken from a fast food restaurant, but then again, my spice mix contained some pretty dark spices.
I would make this recipe again! I think I will go out and purchase an electric skillet. Being able to keep the grease at a steady temperature would help. I did not burn anything, but did have to keep playing with the heat to keep from it.
Perfect and tasty drumsticks
Bread and Butter corn from the CSA
Pasta salad
Yummmmmm
Spice Blend
1/4 cup mild Chile powder
1/4 cup hot smoked paprika
2 TBL celery salt
2 TBL freshly ground white pepper
2 TBL ground cumin
1 1/2 tsp. garlic powder
kosher salt to taste
Thanks for stopping by. I hope you consider using this recipe or taking bits of it to try the next time you fry chicken. Can't wait to see what everyone else has made!
Pin It Now!