My daughter, a.k.a., The Baby, will be so envious that she is not home to try my new creation, "Blackberry Envy Smoothie". She absolutely loves smoothies! If she sees fruit, fresh or frozen, her first thought is to blend them up and make a delicious drink.
I, on the other hand, am not so fond of smoothies. I think it is because I am lazy! I find it too much work to pull out a multitude of ingredients for such a small prize. Now, don't get me wrong, I am happy to make a recipe for a main dish that has a lot of ingredients, but the payoff is much bigger.
So, I thought to myself, "If I could just come up with a lazy way to make a smoothie and keep it healthy, I would do it more often." Well,
The Yummy Life
has done all the work for me. I love her smoothie recipe, not only because it tastes good, but because it makes more than one and they will keep for a couple days!
Monica, of
The Yummy Life
, gives recipes for 7 variations of the Make Ahead Oatmeal Smoothie. One of the recipe options, is an "invent your own," recipe. The "invent your own" recipe was the basis for my "Blackberry Envy Smoothie"! Throw in a little envy and I had a wonderful creation!
I had fresh blackberries from our CSA (Community Supported Agriculture) so I decided to use them in the recipe.
Make Ahead Oatmeal Smoothie - Create Your Own Version
1/4 cup uncooked oats
1 1/2 tsp dried chia seed
1 cup liquid (juice, milk, combination of the two)
1/4 cup low fat yogurt (greek, because of the protein, but any will do)
1 cup fresh fruit (or 1/2 cup dried, or 3/4 cup pureed, i.e. applesauce)
Optional
1 or more tsp sweetener (honey, agave, etc)
1 or more TBL jam or spread
1/8 to 1/2 tsp cinnamon or other sweet spice
Add oats and chia seeds to blender; blend on high until texture of flour. Add liquid (milk/juice) to blender. Add yogurt. Add fruit and any additional flavorings. Blend on high until desired smoothness. Taste and add sweetener. At this point, I decided to add a tsp. of vanilla extract. The end result tasted like a blackberry muffin. Then, I blended again.
Transfer to a jar or container; refrigerate overnight, or a minimum of 4 hours, so oats & chias can soften. Will keep in refrigerator at least 2-3 days. Shake before drinking
I love the ease and versatility of this recipe. It is so healthy too!
Nutrition breakdown
(approximate - taken from Monica's site):
Calories - 268
Fat - 4.8 g
Carbs. - 53
Protein - 12.6 g
Fiber - 7g
Weight Watchers points - 6 -8
I hope you will take the time to check out Monica's site. There are so many other wonderful recipes there. I can tell you, I have been back often.
This is my first time linking up to the
Crazy Cooking Challenge
and I am excited to see what everyone else created!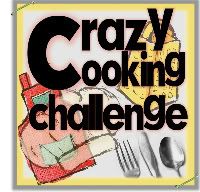 Thanks for stopping by!
Pin It Now!